Menu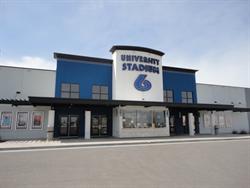 Megaplex Theatres
Megaplex Theatres at University
(University Stadium 6 Theatres)

1225 North 200 East
Logan, Utah 84321
(435) 753-1900
megaplextheatres.com/university
(2007)

Westates Theatres opened the University Stadium 6 Theatres on 19 October 2007. The 26,000-square-foot theater complex has 1,300 seats, stadium seating, and new film projectors.[1] The largest auditorium seats over 400 people.[2] Although the new multiplex has only six screens, it actually has more seats than the eight-screen Providence Stadium 8. The cinema is located next to the Cache Valley Mall.

Westates Theatres began negotiations for the new theater with mall owner JP Realty after taking over the Cache Valley 3 Theatres in 2002.[3] The Cache Valley 3 at the mall and the Cinema 3 downtown closed in preparation for the opening of the University Stadium 6.[2]

Tony Rudman, whose family owns Westates Theatres, "acknowledged the new multiplex is more a testament to his love of the region than satisfying consumer demand."[2]

Speaking of the abundance of theater screens in the valley, Rudman said, "I think there probably are too many theaters. Economically, [building the University Stadium 6] might not be the brightest decision in the world, but we're excited about bringing more quality theaters to Logan."[2]
1. "There's a new show in town", Utah Statesman, 26 October 2007
2. "Valley in line for another multiplex", Herald Journal, 12 March 2006
3. "Cottonwood Mall theater closes doors", Deseret News, 15 February 2002