Menu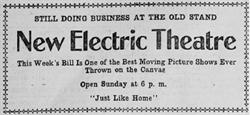 New Electric Theatre
(Grande Vaudeville Theatre)

425 East 25th Street
Ogden, Utah 84401

(1907 - ?)

Lester B. Funge announced plans in August 1904 for the Grande Vaudeville Theatre, "an up-do-date playhouse with all the modern accessories," to be built between the Reed Hotel and the St. Paul Lodging House. The $25,000 building was to be two stories high, built of pressed brick and brown sandstone. With a capacity of 800 opera chairs, the theater would extend back to the side of the Grand Opera House. The "commodious family theatre" was to present "clean, moral, up-do-date vaudeville performances."[1]
Funge, who had lived in Ogden for 25 years, was "thoroughly conversant with the show business," having spent the previous11 years managing theaters in San Francisco. He was "well and favorably known" in Ogden and appreciated that Ogden was "a good show town." J. P. O'Neill, owner of the property, was to serve as contractor. "Architect Smith" was engaged in drawing up the plans.[1]
The 1906 Sanborn fire insurance map shows an office building at about 425 East 25th Street with a bowling alley on the first floor, offices and rooms on the second, and a hall on the third. The building was located east of the Reed Hotel and west of the St. Paul Hotel.[2]
On 20 November 1907, the New Electric theater opened, just east of the Reed Hotel. The showhouse had been remodeled with steam heat, a "picture machine with the most modern improvements," and "all the necessary conveniences." The cinema opened with "a strong bill . . . bound to place the popular little house in the front ranks of the small theaters of the city."[3]
The 197-seat Electric was the first theater operated by the Alhambra Theatre Company, which grew within seven years to be a chain of at least eight theaters, with locations in Salt Lake City, Ogden, Boise, Pocatello, and Rock Springs Wyoming. The Electric Theatre opened under the management of H. A. Springs and included property valued at $1,000.[4]
On the 1950 Sanborn insurance map, the Hotel Ogden appeared to occupy the Electric Theatre building and the adjacent St. Paul Lodging House.[2]
1. "New Ogden Theatre", Ogden Standard Examiner, 22 August 1904, page 6
2. "Sanborn-Maps", New Electric Theatre (Ogden), Sanborn Insurance Maps, 1906
3. "New Electric Theater", Ogden Standard Examiner, 19 November 1907, page 3
4. "Theater on Hudson Avenue is to Cost Approximately $150,000", Ogden Standard Examiner, 26 March 1914, page 7