Menu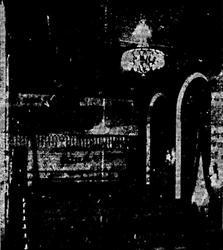 Movie

2510 Washington Blvd
Ben Lomond Hotel
Ogden, Utah 84401

(1970 - 1977)

Wayne and Mark Stephens, owners of the North Star Drive-In, opened "The Movie" on 6 February 1970 in the former dining room of the Ben Lomond Motor Hotel. The theater was located in the lower lobby, just off the 25th Street entrance. The Movie was the first theater to open in downtown Ogden in more than a quarter of a century.[1]
The "luxuriously intimate" cinema offered "exclusive first run films" in "surroundings conducive to relaxed enjoyment." Self-rising rocker seats with high backs and upholstered arm rests, were arranged in continental seating with ample leg room and an unobstructed view of the large, wall-to-wall screen. The lenticular screen spread light evenly over the entire screen surface and was designed to accommodate present and future project systems.[1]
Free parking was provided by a lot across the street, where the Ogden Theatre once stood.[1]
The Movie ceased operation by August 1977. The Ben Lomond Hotel, with occupancy rates as low as 6%, had an operating deficit of $11,163 in June 1977. The F. O. Woodbury family donated the building to Weber County on 22 April 1977. Offices for the Utah State Tax Commission, Assessor J. Mike Monson, and Weber County planned to move in to the building in Fall 1977.[2] The County Commission agreed in December 1977 to terminated the lease by the Orpheum Corporation in exchange for the theater's internal fixtures, including projection equipment, seats, and lights.[3]
1. "New Theater Opens Here Next Friday", Ogden Standard Examiner, 1 February 1970, page A9
2. "Jensen Reports State Office Moving Into Ben Lomond Hotel", Ogden Standard Examiner, 6 August 1977, page B10
3. "County Drops Theater Lease", Ogden Standard Examiner, 27 December 1977, page A12