Menu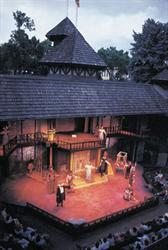 Adams Shakespearean Theatre

351 West Center Street
Cedar City, Utah 84720

(1977 - 2015)

In the early 1960s, business owners worried that the proposed Interstate 15 would divert tourists from Cedar City as they travelled to Zions and Bryce Canyon national parks. Fred C. Adams, a professor at Southern Utah State College, thought a theater festival might encourage passing tourists to exit the new freeway. Adams visited leading Shakespeare festivals in the United States and Canada and spent hours talking with their founders.[1][2][3]
The Utah Shakespearean Festival presented its first season in 1962, on the campus of the College of Souther Utah (now Southern Utah University). Between rehearsals, the acting company built a makeshift outdoor platform for a stage. The audience was seated in folding chairs on the lawn. "Hamlet," "The Taming of the Shrew," and "The Merchant of Venice" played for two weeks, attracting 3,276 visitors. The festival had 25 volunteers and a budget of less than $1,000.[1][2][3]
The festival gained a permanent performance area in 1977 with the construction of the Adams Shakespearean Theatre. The $18,000 outdoor theater was patterned after Shakespeare's original Globe Theatre. The BBC and the Royal Shakespeare Company traveled to Cedar City in 1981 to film because the theater was the closest replica to the Globe Theatre in the world at the time.[1][2]
On 16 February 2012, the Utah Shakespeare Festival announced plans to build a new Shakespeare theater with amenities missing from the current building. Construction is expected to begin in Fall 2013, with completion by early 2015.[4]
"The current theater has been a joy to perform in and has served the actors, directors and patrons well for more than 35 years," said Fred C. Adams, founder of the Utah Shakespeare Festival. "But as the Festival has grown, we are now feeling a dire need for a larger, more modern facility that includes such creature comforts as public restrooms and a proper backstage area. When completed, this new Shakespeare theater will re-create the charm and intimate environment under the stars that has so thrilled and excited our patrons from across the nation and throughout the world."[4]
1. "Utah Shakespeare Festival celebrates its golden anniversary", Deseret News, 6 May 2011
2. "Acting its age: Utah Shakespeare Festival in Cedar City is still golden at 50", Daily Herald, 26 June 2011
3. "Utah Shakespeare Festival turns 50", Salt Lake Tribune, 16 June 2011
4. "Festival Announces Plans For New Theatre", Utah Shakespeare Festival, 16 February 2012