Menu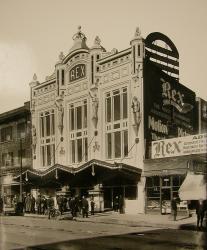 Rex Theatre
(Bungalow, Lyceum, Daniels Theatre, Strand Theatre)

253 South State Street
Salt Lake City, Utah 84111

(1908 - Before 1958)

The Bungalow Theatre was built in 1908 and also housed the Hotel Bungalow. By 1909 it was was renamed the Lyceum Theatre.

The plain theater went through a dramatic transformation in 1912 when it recieved a new façade and was renamed the Rex Theatre. The new façade features a crown at the top and statues of women holding lights and sentry knights in armor. Two freestanding ticket booths were added in front of the build. The Rex was a junior vaudeville and motion picture theater and was advertised as being the "most elaborate" and "absolutely fire proof."

The theater was known as the Strand from about 1918 to 1922.[1]

Eventually the building became the Axelrad Furniture Co. In 2001, it was the Tivoli Gallery and Regis Apartments.
1. Polk's Utah Gazetteer and Business Directory, 1918-1919, 1920-1921, 1922-1923