Menu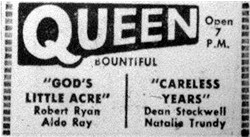 Queen Theater

460 West 500 South
Bountiful, Utah

(1947 - 1994)

The Queen was built in 1947 and had a 540-seat auditorium and a large lobby.
In December 1977, Consolidated Amusements renovated the theater, spending between $8,000 and $9,000 on new equipment, including a completely new sound system. A new screen was to be installed in the beginning of 1978. At the time, the Queen was showing second-run films.[1]
In 1993, Consolidated Theaters opened a new 8-screen theater near the Queen. For a while both theater tried to show first-run movies, but the new Gateway 8 drew away most of the business from the Queen. Consolidated thought about impact the Gateway 8 would have on the Queen before they built it, but "the primary consideration was that the opportunity at the Gateway far outweighed the opportunities at the Queen."[2]
The Queen closed 23 December 1994, with a sale pending on the property.
In April 1997 the Bountiful City Council approved a plan to demolish the Queen theater and build a Deseret Book store in its place. Consolidated Theaters, which still owned the property, was going to lease it to Deseret Book.[3]
1. "Queen to reopen", Deseret News, 23 December 1977, page C8
2. "Once-Majestic Queen Theater Dethroned", Deseret News, 15 March 1995, page B3
3. "Curtain falling on stately old Queen", Deseret News, 30 April 1997, page B2