Menu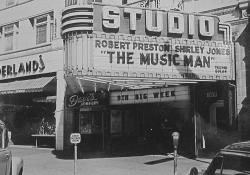 Studio Theatre
(Stadium Theatre, Utah III Theatre)

161 South Main Street
Salt Lake City, Utah

(1933 - About 1983)

The Studio Theatre was narrow, about as wide as the hallway leading back to lobby of the Utah Theatre across the street. The Studio's very small candy counter took the entire width of the lobby, with the aisle entrances on either side. The seats in the auditorium had high backs, making it impossible to see the person in front of you, but the screen was elevated high enough to give everyone an unobstructed view. The waterfall curtain for the screen rose in a scallop fashion.[1]
The theater opened as the Stadium Theatre in 1933 and was renamed the Studio Theatre in 1934. In June 1939, the lobby was redecorated.

In July 1973, the Studio Theatre replaced its familiar triangular marquee with an almost flush sign on the front of its theater. The change was made because of the age of the old sign and a new city sign ordinance.[2]

In the mid-1970s, Plitt Theatres acquired the Studio from ABC Theatre Holdings Inc. About the same time the theater was renamed the Utah III, because it was across the street from the Utah I and II theaters.

Plitt Theatres closed the Utah III in April 1983 and allowed its lease on the building to expire. Ed Plitt, western division vice president of Plitt Theatres, Inc., said, "It has been losing money. It is an old theater, there is a lot of competition growing up in the area. There are no facilities for parking since they narrowed Main Street . . . I would say that, basically, the Utah III has outlived its use."[3]

Plitt removed all the seats, projection and sound equipment, and the drapery from the building, leaving the owner, Bamberger Investment and Exploration Company, to consider whether to re-equip the theater and seek a new operator or renovate the building as office space.

"I think anybody who went there to run a theater would be rather foolish," Mr. Plitt said. "It wouldn't make any sense for a big chain to be pulling out if it could be run profitably by someone else."[3]
1. E-mail from Roger Barker, March 2010
2. "Theaters Replacing Familiar Marquees", Salt Lake Tribune, 19 July 1973, page E1
3. "Curtain to come down on Utah III Theatre", Salt Lake Tribune, 25 March 1983, page M4