Menu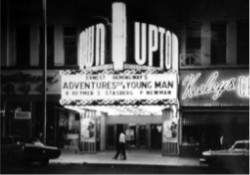 Uptown Theatre
(Empress Theatre, Paramount-Empress Theatre, Paramount Theatre)

53 South Main Street
Salt Lake City, Utah

(1911 - 1971)

The Empress Theater was built for the Sullivan - Considine circuit in 1911 and featured vaudeville acts and movies. Poor business, however, forced the theater to close.
In 1916 Louis Marcus, a local distributor for art class pictures, reopened the theater as the Paramount - Empress and operated it almost exclusively as a movie showhouse. Music for the films was provided by the Paramount Orchestra. Because the theater had no air conditioning, it was closed from mid-June until August.
Marcus later turned over management of the Paramount to George E. Carpenter, a book reviewer for a Salt Lake newspaper.
Publix Theaters, a subsidiary of Paramount Studios, bought the theater from Marcus in the late 1920's, but the theater was forced to close during the depression.
In 1930's the Paramount reopened with Clark Gable and Vivian Leigh in the movie "Gone With The Wind."
In 1941 the Paramount Theater became part of the Joseph L. Lawrence chain, which brought back musical stage plays in adddition to music.
In 1955 Fox Intermountain Theatres bought out the Lawrence Theater chain. By then, the Paramount was known as the Uptown. Fox Intermountain later became National General Corporation.
The Uptown Theatre closed after the last showing of the movie "Lawman" on 1 August 1971. The 60-year-old theater was demolished to make room for the ZCMI Shopping Center.
Ted Kirkmeyer, the last manager of the Uptown, said, " . . . I think this has a happy ending because we will be replaced by one of the most beautiful and practical shopping centers in the United States. A new theater is also planned for the downtown area that will be in keeping with the tradition of the Uptown."[1]
A new theater was never built as part of the ZCMI Center because the shopping center was owned by the Church of Jesus Christ of Latter-Day Saints and there were concerns about opening on Sundays and the showing of R-rated movies.
1. "Uptown Theatre entertains its last audience today after 60 colorful years", Salt Lake Tribune, 4 August 1971, page E1