Menu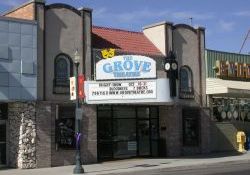 Grove Theatre
(Alhambra Theatre, Little London Dinner Theatre, Alhambra Playhouse)

20 South Main Street
Pleasant Grove, Utah 84062

http://www.groveeventcenter.com/
(Before 1930)

The Alhambra Theatre was built in 1925
1
or 1931
2
and is located on Main Street in Pleasant Grove.
In the 1940s, the Alhambra theater was purchased by John Miller, who also owned theaters in American Fork and Lehi. For almost 30 years the Miller family operated the Alhambra, with sons running the movie projectors while daughters worked the concession stand and ticket booths. In 1972, after the Miller children had moved away, the theater was sold to Lamont Alan.
3
On 4 August 1997, owner Shere Young put the Alhambra Theatre up for sale for $250,000. After operating the discount theater six days a week for six years, Young said it was time to move on to other projects. "This is one I'm tired of. It's a baby-sitting job. It's fun, but it's hard work, a lot of hard work.'' Attendance at the Alhambra dropped a little durring 1997, which Young attributed to a poor selection family movies.
4
In December 1997, the Alhambra Theater closed temporarily because of a lack of family-quality movies. Owners Jim and Sharee Young expressed concern about the dwindling selection of wholesome movies, while the number of PG-13 and R-rated movies increased.
5
Little London Dinner Theatre
On 1 July 1999, the 77-year-old Alhambra Theater became the Little London Dinner Theatre, a professional theater with high-quality, family-oriented entertainment - "light-hearted with lots of laughter, great voices, great talent."
6
New owners Suzanne and Bill Kirby remodeled office space at the back of theater to create a kitchen and bakery "so we can serve a nice meal with chandeliers and china."
6
The stage, which was hidden behind the movie screen, was uncovered and rebuilt. The raked floor in the auditorium was replaced with a new concrete floor with tiers and the seating was reconfigured to seat 180 patrons around tables.
7
The Little London presented eight or nine shows a year, each bringing in better numbers than the one before. The theater was sold out for the run of "A Christmas Carol" in December 2001. Despite it success, the Little London closed in January 2002 because it could not overcome the the costs "paying actors, royalties, and all of the associated costs of providing a choice of hot dinners within the price of the ticket."
2
Grove Theatre
On 8 May 2003, partners Gayliene Omary and Jan Shelton re-opened the Alhambra as the Grove Theatre and Grove Theatre Academy. The opening production was "Once On This Island," a musical adaptation of "The Little Mermaid." In addition to stage plays with a buffet-style dinner, the Grove offered 'aftershows' entertainment like karaoke, improv, and live-band music.
9 & 10
Gayliene Omary dreamed of owning a theater since she played Minnie Foy in 'Hello Dolly' at the Alhambra when she was 16. "I've tried to buy a couple of theaters before this," Omary said. "This one just came with everything the stage, the tables, the lights. It's in wonderful shape."
10
When the Grove Theatre Academy expanded into a building across the street, Omary said of the new facility, "There is even a two-bedroom apartment upstairs, in case I loose my house, fulfilling my dream."
11
The goal of the Grove Theatre Academy was to provide education in the theater arts to all age groups, from 3 years old to senior citizen. The first semester began 8 September 2003 and was to be followed by a second semester from February to June and then summer acting camps. Owners Omary and Shelton hoped to have the academy accredited within five years.
10 & 11


Neil Simon and "Rumors"

Financial trouble for the Grove Theatre began with a two-week production of Neil Simon's play "Rumors", which was scheduled to begin 14 August 2003. After profanity was removed from the dialog during rehearsals, a lead actor in the play reported the Grove Theatre to Samuel French Inc., the company that handles copyrights and royalties for the play. After being informed by Simon's attorney that they must do the play as written or not at all, Grove Theatre owner Gayliene Omary decided to cancel the play rather than go against community standards.
8 & 12
The theater had no backup play ready and had already spent several thousand dollars on production costs and advertising. The closure cost about $20,000 and basically left the Grove Theatre without any working capital.
15
On 8 August 2003, Eric Snider of the Daily Herald wrote an article on the incident and finished with the line, "How Samuel French learned of the alterations is a mystery worthy of Agatha Christie more than Neil Simon."
12
Snider was fired on 19 August 2003 for an ethics violation, since he himself had reported the Grove Theatre to Samuel French. Snider's roommate, Brent Merritt, a Daily Herald employee and a lead actor in the play, also contacted the copywrite monitor.
13 & 14
Speaking of Merritt, Omary said, "I just wonder why he felt so compelled to do that and not to come to us first. It almost seems like he contrived a story; made up a story to excite things."
13
Save the Grove

After the Neil Simon incident the Grove Theatre continued its dinner theater productions, but the theater could never recover from its financial loss. Although attendance at the plays was good, the shows themselves generated very little profit. Most of the theater's profit came from food sales and not enough showgoers were ordering the buffet dinners.
18 & 15
With a large mortgage payment due in June 2004, the Grove Theatre started fund-raising efforts. In January 2004 friends of the Grove Theatre set up a "Save the Grove" fund through Western Community Bank, saying that if Omary had a dollar for every person who applauded her decision last summer, she would never have to worry about money for the theater again.
16
Donation boxes were also placed in businesses on along Main Street.
On 6 March 2004, the Grove Theatre held an "Extreme Theatre" fundraiser where five directors, five playwrights, and a group of actors had 24 hours to create and produce five short plays. The event, however, came up over $1,300 short of its $2,000 goal, barely enough to pay for itself.
17 & 18
On 12 April 2004 a benefit concert for the Grove Theatre was held on the Pleasant Grove Rodeo Grounds, but only about 80 people showed up. Organizers had hoped to raise enough money to keep the the Grove Theatre afloat for another month. After the concert, Gayliene Omary said the Grove Theatre would be repossessed by the bank in June if she could not find investors with at least $100,000.
19 & 20
In April 2004 the Grove Theatre could no longer afford to do any more productions and all remaining plays were cancelled.
20
The building used by the Grove Theatre Academy was taken back by the owner because the theater could not make the lease payments.
19
Weekend Kareoke night continued through the end of May 2004.
1.
"For-sale sign out at Little London Theater"
, Deseret News, 27 January 2002, page E8
2.
http://www.grovetheatre.org/history.html
3.
"Now playing at Alhambra: 'For sale'"
, 6 August 1997, Deseret News, Utah County Edition, page B3
4.
"Grove Theater Legacy"
, New Utah, 4 December 2003, page 3
5.
"The winners and the losers"
, Deseret News, 20 December 1997, page A18
6.
"Cooking up some fun in Little London"
, Deseret News, 23 June 1999, page B1
7.
"Summer serves a full plate of theater"
, 27 June 1999, page E8
8.
"Dang! Simon says no; Utahns pull play"
, Deseret Morning News, 8 August 2003
9.
"Little London to reopen as The Grove Theatre"
, New Utah!, 3 April 2003, page 1\
10.
"2 combine talents to offer dinner and theater"
, Deseret Morning News, 4 May 2003
11.
"Grove Theatre owner buys Academy bldg."
, New Utah, 17 July 2003, page 14
12.
"Playwright kills play over lack of profanity"
, Daily Herald , 8 August 2003
13.
"Daily Herald fires writer over story on 'Rumors'"
, Deseret Morning News , 22 August 2003
14.
"On Eric Snider and ethics"
, Daily Herald , 24 August 2003
15.
"Theater fighting for its life"
, Deseret Morning News, 12 February 2004
16.
"Rolly & Wells: Legislators, take note"
, Salt Lake Tribune, 28 January 2004
17.
"Grove schedules 'extreme theatre' experience"
, Deseret Morning News, 8 February 2004
18.
"Extreme Theater not enough"
, New Utah, 11 March 2004, Page 1
20.
"Concert proceeds to save theater fall short"
, Daily Herald, 13 April 2004, page D1
21.
"Grove may be near final act"
, Deseret Morning News, 1 April 2004