Menu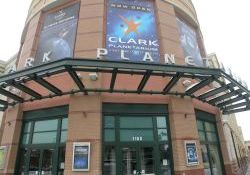 The Clark Planetarium opened on 11 April 2003 and is located in The Gateway shopping center on the west side of downtown Salt Lake City. The $19 million planetarium was built as a replacement for the aging Hansen Planetarium at 15 South State Street. The new facility was named for the late Sheila M. Clark after a $1 million donation from the Clark Foundation.

The Clark Planetarium features Utah's first IMAX theater, the world's first digital star theatre, a display of planets, a recreation of the lunar and Martian landscapes, a science shop, weather display, and other exhibits.

The screen in the ATK IMAX Theatre is 70 feet wide by 50 feet tall and has a "brushed aluminum" surface for high reflectivity. The projector in the dust-proof projection booth is the size of a small car and uses a 7,000-watt lamp. IMAX 3D movies have separate reels of film for each eye. Moviegoers wear polarized glasses so that each eye sees a separate view, which the brain then combines into a three-dimensional image. A 40 minute movie uses 7 miles of film, with each reel weighing 600 to 700 pounds. The 281-seat IMAX theater has a seven-channel, 12,000-watt sound system with at least 40 speakers, including a 2,000-watt sub-woofer. The first IMAX film to play at the Clark Planetarium was "Space Station," narrated by Tom Cruise.

The Hansen Star Theatre, or Digital Dome, has 201 seats with sloped stadium-style seating. The screen is a 55-foot tilted dome, which provides an unobstructed view for star shows. The Digistar projection system uses a pit-less design so there is nothing in the middle of the room.

Between the two theaters is the 'Parade of Planets', a display of correct scale sized models of all the planets in the solar system. The Clark Planetarium also has a room that recreates the lunar and Martian landscapes.[1][2]
1. "Stellar facility opens today", Deseret News, 11 April 2003, page B1
2. "'Sail' to take Utahns into depths of space", Deseret News, 11 March 2003, page B1