Menu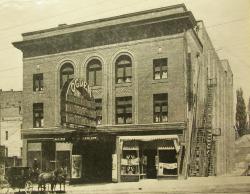 Ogden Theatre

424 25th Street
Ogden, Utah 84401

(1909 - After 1964)

The historic Ogden Theatre opened in 1909 and was located at 420 25th Street in Ogden.[1]

The Ogden Theatre showed movies from about 1920 to 1964.[2]

Woodbury Corporation, owner of the property, demolished the Ogden Theatre in July 1968 to make way for either a multi-level office building or an eight-story parking garage.[1]
1. "Wrecker's Ball Dooms Old Ogden Theater", Salt Lake Tribune, 15 July 1968, page 18
2. "Ogden", movie-theatre.org