Menu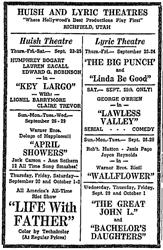 Lyric Theatre

Main Street
Richfield, Utah

(1907 - After 1955)

The Lyric Theatre was an adobe structure built in 1881. It was originally a furniture store, but was later remodeled into a dance hall. A stage was added, making it a combination dance and opera hall.[1]

In 1907 the building became the Lyric Theatre, showing a new form of entertainment - the motion picture.[2] The Lyric Theatre continued to show movies until after 1955.[3]

In October 1983 the owners, the Van Anderson family, had the Lyric Theatre demolished because it had become an eyesore and a hazard to the downtown area. [3]
1. "Family OKs Razing Of 102-Year-Old Richfield Theater", Salt Lake Tribune, 29 October 1983, page 2B
2. "Chapter 5: The County Matures," A History of Sevier County, by M. Guy Bishop, Utah Stat History CD-ROM
3. "Rural 2", http://movie-theatre.org, listing as its sources the Film Weekly Film Journal yearbooks 1920, 1925, 1930, 1935, 1940, 1945, 1950, 1955 and International motion picture almanacs 1961, 1964, 1969, 1975, 1980, 1985, 1990, 1995, 1998, 2000