Menu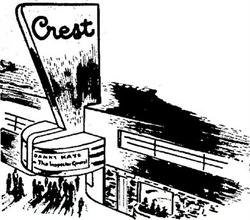 Crest Theater

2021 East 2700 South
Salt Lake City, Utah

(1950 - After 1955)

The Crest Theatre, "Your deluxe family theatre," opened on 9 February 1950 with Danny Kaye in 'The Inspector General.'[1]

The Crest had a "ultra-modern design of beauty and luxuriousness." Native flagstone and evergreens decorated the front of the building. The marquee was designed "in keeping with modern motif of rolling lines." The foyer and lounge area featured a mural and "pleasing colors and restful comfort in furnishings." Indirect lighting illuminated the auditorium. The draperies made "a striking effect of beauty."[1]
The theater appears to have been converted into a two-storey office building which now makes up part of the Country Club Marketplace.[1]
1. "Advertisements", Crest Theater (Salt Lake City), "Opening Day Ad", 9 February 1950