Menu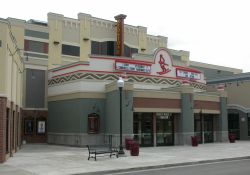 On 16 January 2004, Rocky Mountain Cinemas opened the new eight-screen Redstone 8 Cinemas at Kimball Junction near Park City. The 1,000-seat multiplex is the largest in the Wasatch Back and features stadium seating, love seats, a lobby cafe, cry room and play area, and a video arcade.1
The new Redstone development by The Boyer Co. is expected to have more than 45 stores and restaurants, 30,000 square feet of office space, and 286 residential units.2

Rocky Mountain Cinemas was not the first theater chain to be involved with the proposed the Redstone theater. About July 2001 Megaplex Theatres announced plans to open the theater in the spring 2002.
3

1.
"Theaters to open at Kimball Junction"
, Deseret Morning News, 13 January 2004
2.
"Business Digest"
, Salt Lake Tribune, 21 November 2003
3.
"Movie Theater Closes for Conversion to Multiplex"
, 19 July 2001, Salt Lake Tribune