Menu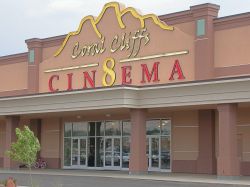 Coral Cliffs Cinema 8 was built through the efforts of Hurricane City and partners Mike Beard, Paul Rogers, and John Bramall. Their objective was to provide a quality theater with the best in equipment, comfort, and customer service so that residents could spend their tax dollars at home instead of driving into St. George.

The theater complex features stadium seating and Dolby Digital sound systems in all eight auditoriums. The seats recline two inches and have Tempurpedic foam, high backs, and retractable arm rests. Seating capacities for the theaters are 261, 185, four at 136, and two at 105. The ticket and concession systems are integrated so patrons can pay for their movie and buy popcorn at the same time. Online ticket sales are also available through the theater's web site, www.coralcliffscinema8.com.

The project, developed by Interstate Rock Products, Inc., may eventually include a restaurant and a strip mall. Coral Cliffs Entertainment, Inc. will operate the theater. First-run, blockbuster movies will be provided through the Wehrenberg Theater Group.

Coral Cliffs held a soft opening in November to introduce the public to the theater and to help test the new staff, equipment, and facility. Proceeds from the soft opening were donated to local charities. A "film-cutting" ceremony was held for the grand opening on 2 December 2004, followed by a presentation showing the construction of the building from start to finish. Moviegoers during the opening weekend were greeted personally by the staff, and T-shirts, movie passes, and concessions were given away.[1][2][3][4]
1. "Eight-plex Movie Theater Coming to Hurricane", Hurricane Valley Journal, 17 March 2004
2. "Coral Cliff's Cinema 8 Breaks Ground", Hurricane Valley Journal, 25 July 2004
3. "Atmosphere and Quality at New Cinema", Hurricane Valley Journal, 15 September 2004
4. "Coral Cliffs Cinema to Open Soon", Hurricane Valley Journal, 3 November 2004