Menu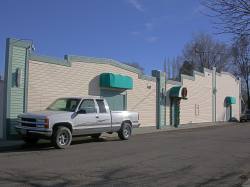 After the Utah Theatre stopped showing silent films, Lawrence Bray purchased the theater's organ and moved it to his aunt's former chicken coop. He scrubbed the shack, installed a tile on the concrete floor, and raised the roof to accommodate 16-foot pipes. The Organ Loft has been renovated numerous times since it opened in 1946, including the addition of parts from the organ of the Paramount Theater in New York. After his uncle died in 1982, Larry Bray took over management of the Organ Loft.

The Organ Loft gets the majority of its business from banquets and wedding receptions, but several times a year it holds a silent film festival. Music for silent films is performed by four local accompanists who have the special talent it takes to synchronize sound effects to action on the screen.

The local chapter of the American Theater Organ Society gathers every Tuesday night to help maintain the theater organ. In addition to 2,400 pipes, the organ has drums, tambourines, a marimba, piano, glockenspiel, and a boat horn. Pipes range in size from 8 inches to 16 feet. The Wurlitzer console of the organ sits on the stage of the dining room, which also includes a dance floor.[1]
1. "Pipe organ keeps a dying art form alive", Deseret News, 4 May 2006