Menu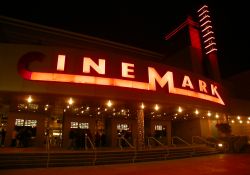 Cinemark USA
Cinemark 24 at Jordan Landing
(Cinemark at West Jordan)

7301 South Jordan Landing
West Jordan, Utah 84084
801-282-8847
cinemark.com
(1999)

The Cinemark 24 at Jordan Landing opened on 19 November 1999 as part of the 400-acre Jordan Landing development. The 108,000-square-foot theater complex has 24 screens with a total of 5,600 seats. Each theater has stadium seating and digital sound.[1]

By October 2003, the Jordan Landing shopping center was so successful that West Jordan City had to move up planned road improvements to help prevent traffic jams in the area.[2]

In January 2003 Jeff Vice, movie critic for the Deseret News, gave the Cinemark 24 at Jordan Landing a "Best Place to See a Movie in Salt Lake City" award for having the "ideal combination of projection and sound excellence, and comfort."[3]

On 15 July 2009, Harry Potter and the Half Blood Prince began playing in Cinemark XD in Theater 12. The 550-seat auditorium was transformed for the new large screen format, which features a new 67-foot wide screen and a custom JBL sound system with over 30 speakers. The digital image is provided by a Doremi server and a Barco DP3000 projector with a light output of 30,000 lumens.[4]
"The Cinemark XD format will offer our Salt Lake City area customers an extreme digital experience," comments Alan Stock, Cinemark's Chief Executive Officer. "Movie-goers, get ready for sensory overload. We have created an environment that engages all of your senses and pulls you into the picture. Another benefit worth mentioning is that Cinemark will be able to exhibit all movies in this auditorium, including Real D-3D pictures."[4]
1. "Cinemark to add Tinseltown to Jordan Landing project", Deseret News, 17 March 1998, page E2
2. "Jordan Landing's popularity ties up traffic", Deseret News, 19 October 2003
3. "For the rest of 2002's best (and worst), here are Viceroys", Deseret News, 5 January 2003, page E08
4. "Cinemark Launches New Large Screen Digital Format in West Jordan, UT", Cinemark USA, 10 July 2009