Menu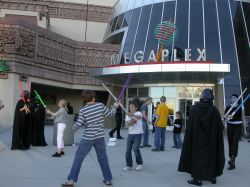 Megaplex Theatres
Megaplex Theatres at Jordan Commons
(Megaplex 17 at Jordan Commons)

9335 South State Street
Sandy, Utah 84070
(801) 304-4577
megaplextheatres.com/jordancommons
(1999)

The Megaplex 17 at Jordan Commons was built by Larry H. Miller, owner of the Utah Jazz basketball team, and opened on 5 November 1999. The Jordan Commons development was built on the former site of the old Jordan High School and includes the 17-screen theater complex, the Mayan restaurant, four independently managed restaurants, and a 10-story office building.
The theater cost $107 million - at least 30 percent more expensive than similar theaters. The lobby, which cost 6 to 10 million dollars, is 90 feet wide from north to south and was designed to look like Salt Lake City's Main Street, circa 1870. The 46,000-square-foot Mayan restaurant was 75 days behind on its construction schedule and twice as expensive as planned.[1]
The 17th theater is the Super Screen, which seats 456 and shows large-format 70mm films on a screen 60 feet high by 80 feet wide with a 15,000 watt, 6-track digital sound system. The Super Screen is the largest in the Salt Lake area.[2]
"It's a gamble by pure economic standards," ower Larry H. Miller said. "I've seen how it doesn't make sense on paper right now. But it will make money. I know it will. At least I don't have to worry about it being replicated. No one else is stupid enough to do this . . . I've been warned that I've overbuilt this. I mean, this is so much more than a ticket lobby. It's a little city."[1]
The theater had its first graveyard sift in May 2002, when it stayed open for three days for the opening of "Star Wars: Episode II: Attack of the Clones". For the opening of "Matrix Reloaded" in May 2003, Jordan Commons sold out 15 screenings that started between 10 p.m. and midnight. These were followed by screenings at 3 a.m., 6 a.m., and 9 a.m.[3]
In 2002, the Megaplex 17 at Jordan Commons was highest grossing theater for the opening weekend of "Harry Potter and the Chamber of Secrets."[4][
]
The Megaplex 17 at Jordan Commons sold more than 120,000 tickets for Disney's "Pirates of the Caribbean: The Curse of the Black Pearl" during its run from 7 July 2002 to 25 November 2002, making Jordan Commons the top-grossing movie theater in the world for the film.[4]
5,100 moviegoers attended the midnight showings of "Return of the King" at the Megaplex 17 at Jordan Commons, which filled up all 17 auditoriums. Hardcore fans snatched up all 600 "Trilogy Tuesday" tickets in minutes so they could watch 720 minutes of an all-day "LOTR" movie marathon.[5]
A group of "Lord of the Rings" fans tried to start a line for "Return of the King" at Jordan Commons six days before the movie opened, but theater management requested that they come back later. The dozen teenage boys returned four days later, on Monday morning, and camped out for 36 hours with overnight temperatures in the teens.[5]
1. "Jordan Commons official grand opening is Nov. 1", Deseret News, 22 September 1999, page B4
2. "Area's Largest Movie Screen Opening", Deseret News, 5 November 1999, page E1
3. "Hundreds of 'Matrix' fans turn out for 3 a.m. show", Deseret News, 15 May 2003
4. "Yo, ho ho! Flick is real treasure for Utah theater", Deseret News, 3 December 2003
5. "Day of reckoning at last for Utah 'Rings' fanatics", Deseret News, 17 December 2003