Menu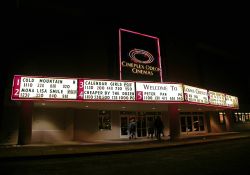 AMC Theatres
AMC Layton Hills 9
(Layton Hills Cinemas)

728 West 1425 North
Layton, Utah 84041

amctheatres.com
(1997)

The Cineplex Odeon Layton Hills Cinemas opened on 14 November 1997, featuring "sightline seating," curved screens, and digital sound in all nine theaters. The largest auditorium had 444 seats and an elevator to reach the top of the stadium seating section.[1]
The Layton Hills 9 was built directly behind the Cinemark Movies 10 and Tinseltown USA theaters at the Layton Hills Mall. Originally the Layton Hills was to have 10 screens and the Tinseltown theater was to have 16, which would have given the area 36 first-run movie screens.[2]
AMC Theatres completed a major renovation of the Layton Hills 9 in 2013. The seating capacity in each auditorium was reduced from 50 to 70 percent to allow for the installation of power recliner seats. Row spacing increased, allowing moviegoers to pass by seated patrons without disturbing them. Digital projection was installed in each auditorium, along with new screens and speakers. Reserved seating began on 22 November 2013. The concessions menu was expanded with hot foods, such as chicken tenders, mozzarella sticks, jalapeno poppers, and pizza. Healthy snacks include apple chips, and hummus.[3]
The seating capacity for the entire complex was reduced from 2350 to 703.
The Layton Hills Cinema was the 25th to be remodeled as part of an ongoing initiative by AMC Theatres. "Layton fit the criteria we look for when doing these type of theaters. It needed some attention. It is a little older theater. We want it to be a destination theater," said Ryan Noonan, director of public relations.[3]
1. "New theaters turn Layton site into the movie mecca of Utah", Deseret News, 13 November 1997, page D15
2. "Movie Mania in Layton: 36 Screens", Deseret News, 15 February 1995, page B3
3. "Layton AMC Theatre undergoes major renovation", Ogden Standard Examiner, 20 November 2013