Menu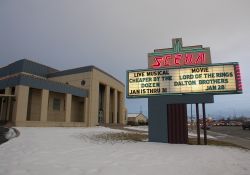 SCERA Showhouse

745 South State Street
Orem, Utah 84058
801 225-2560
scera.org
(1941)

The SCERA Showhouse is a community-owned movie theater specializing in family-friendly films. Showhouse I, the original auditorium, has 756 seats and is equipped with an eight-channel SDDS sound system. Showhouse II, added in 1995, can be used for either movies or stage plays and features a balcony and a Dolby Digital sound system. The SCERA Showhouse is closed on Sundays and does not show R-rated movies.

SCERA, the Sharon Community Education Recreational Association, was founded in 1933 after the First Presidency of The Church of Jesus Christ of Latter-day Saints sent a letter to stake presidents requesting that local church units provide recreation for their members.[1] SCERA's original boundaries mirrored those of the Sharon Stake in Orem.

SCERA held several activities over the next few years, but still did not have a facility. Community leaders decided to build a theater financed by $60,000 in bonds. The LDS Church donated land and much of the construction work was done by volunteers. The SCERA Showhouse opened on 1 September 1941, featuring John Wayne in the western Shepherd of the Hills.

For over 50 years the SCERA Showhouse enjoyed a strong association with Walt Disney Pictures. "It's our favorite theater," said Richard Cook, president of Buena Vista Pictures, in 1989. ". . . it is a spectacular place to see a motion picture. It gives the kind of presentation that we wish all our films would play in. It's big, it's clean, it has wonderful sound, great sight-lines. And they've been so loyal to our company and exhibited our pictures for so many years.''[2]

While the SCERA Showhouse held exclusive rights to show Disney films in Utah County, the theater prospered and expanded.

In 1984 SCERA added the SCERA Shell Outdoor Theatre for plays, concerts, outdoor movies, and live events. The SCERA Shell has its own stage, box office, and concessions. The seating area is a hillside with areas for blankets or chairs.

In 1992 the Wall Street Journal called SCERA's $400,000 run of Beauty and the Beast "an astronomical amount for a single-screen theater in such a small market."[3]

When Westates Theatres opened the Water Gardens Cinema 6 in Pleasant Grove in 1997, SCERA lost its exclusive rights to Disney movies.[4] After the construction of several more new multiplexes in the valley, the SCERA Showhouse could no longer draw the crowds it once had.

Realizing that it must shift away from first-run movies, SCERA changed its organizational structure in November 2003 so it could seek public and private funds. Membership and voting privileges for residents living within the old Sharon Stake boundaries was eliminated and the elected board of directors was replaced with an appointed board of trustees. The board also hired an intern to write grants.[5]

On 13 November 2003 SCERA Showhouse II, which had been closed for three months, reopened with a new dance floor, upgraded lighting and sound systems, and a faster fly system. The changes were intended to make Showhouse II more suitable for musical productions and live concerts, in addition to movies. The $200,000 renovation also included replacing the landscaping, repainting the exterior of the building, and remodeling the porch. SCERA hoped to fund the next phase, renovation of Showhouse I, with grants and support from organizations in Utah Valley.[6]

In February 2004 SCERA laid off five of its 15 full-time employees and cut the hours of many part-time employees because of a decrease in first-run movie ticket sales. Further cost-cutting measures may include discontinuing first-run movies or extending the stage in Showhouse I so the theater can be used as a symphony hall.[7]
1. "SCERA Celebrates 50 Years of Expanding Community Horizons", Deseret News, 22 September 1991, page E10
2. "Disney, SCERA Theater Celebrate 50-Year Association", Deseret News, 5 July 1989, page C1
3. "SCERA to shift away from first-run films", Deseret News, 2 September 2003
4. "Complex to show Disney flicks, will rival popular Orem theater", Deseret News, 12 November 1997, page B3
5. "SCERA seeks financial help", Deseret News, 25 November 2003
6. "SCERA debuts new stage after three months of renovation", Daily Herald, 15 November 2003
7. "Theater to lay off 5 employees and cut hours of others, may cut first-run films", Daily Herald, 26 February 2004, page A1