Menu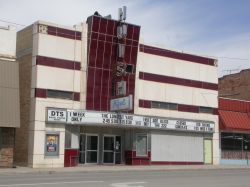 Reel Theatres
Huish Reel Theatre

131 North Main Street
Richfield, Utah 84701
435 896-4400
reeltheatre.com
(1947)

C. E. Huish Theatre Enterprises opened the Huish Theatre in 1947.[1][2] The architect was Fred L. Markham, who also designed the Huish Theatre in Payson.[3] The 758-seat theater[4] has a stage and balcony with as many as 300 seats.[1]
Reel Theatres Inc., which operated a twin-screen theater in Richfield Plaza, purchased the long-closed Huish Theatre in 1996.[1] A new Simplex projector and DTS Digital sound system were installed. The theater's original E-7 projector was moved to the lobby for display. YESCO renovated the vertical blade sign on the theater's facade. Below the vertical neon letters H-U-I-S-H, a lighted box was added with the word REEL.[2]
For its week-long grand re-opening, the Huish Reel Theatre played Pocahontas and Sabrina to capacity crowds. Admission and ticket prices were the same as when the theater first opened in 1947.[1]
1. "Old-Time Prices at New Theater's Debut", Deseret News, 1 March 1996, page B3
2. "Huish Reel Theatre", cinematreasures.org, retrieved 2 June 2020
3. "Huish Theater", cinematreasures.org, retrieved 2 June 2020
4. "Reel Theatre Specs", www.reeltheatre.com, October 2009