Menu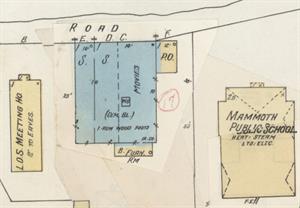 Photo Play Theatre

Mammoth, Utah 84628

(1912 - After 1920)

The Photo Play Theatre[1] opened in April 1912, under the management of McIntyre and McGee, who also operated a moving picture house in Mammoth. The "very attractive little theatre", with a seating capacity of about 250, was built by the Tintic Lumber Company.[2]
A fire broke out in the post office in the early morning of 5 August 1912, quickly engulfing the building and spreading east to the Photo Play Theatre, which "burned to the ground." The Mammoth hotel appeared doomed, but was saved by volunteer fire fighters and "a new hose system of fire fighting apparatus." The theater might also have been saved, if not for delay in find a nozzle for the hose. McIntyre and McGee had no insurance, but all their moving picture equipment and furniture were safely removed from the theater. Both buildings were partially insured by the Tintic Lumber Company.[3][4]
By 16 August 1912, the Tintic Lumber Company had started work on a new moving picture showhouse to replace the one destroyed by fire. Built on the same site, the new building was to be 36 by 70 feet. The Eureka Reported said McIntrye and McGee would "lose no time in getting the new show in motion."[4]
The Photo Play Theatre was open about from 1912 through 1920.[5]
1. "Mammoth . . .", Eureka Reporter, 13 February 1914, page 5
2. "New Show House at Robinson", Eureka Reporter, 26 April 1912, page 1
3. "Serious Fire at Robinson", Eureka Reporter, 9 August 1912, page 10
4. "New Theatre for Robinson", Eureka Reporter, 16 August 1912, page 8
5. Polk's Utah Gazetteer and Business Directory, 1920-1921