Menu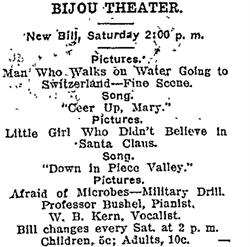 Bijou Theatre
(Odeon Theatre)

24th Street
Ogden, Utah 84401

(Before 1908 - After 1909)

The Bijou Theater advertised in the Ogden Standard Examiner as early as January 1908.[1] An advertisement on 9 June 1908 used the tag line, "All roads lead to the Bijou."[2]
By 17 June 1908, the theater had been renamed The Odeon.[1]
Higginbotham and Platt took over management of The Odeon on Twenty-fourth Street and "thoroughly renovated" in preparation for opening on 21 November 1908. The theater's cloth screen was replaced with a fine plaster wall, "upon which the pictures will appear to much better effect." The Cameraphone used by the previous manager, De Mott, "proved a failure as an attraction and straight pictures and illustrated songs will be run in the house henceforth. Excellent film service has been secured and an interesting and instructive program is guaranteed to patrons."[3]
In February 1909, The Odeon changed to a 5-cent picture show. Patrons were advised to come early.[4]
1. "Advertisements", Bijou Theatre (Ogden)
2. "Random References", Ogden Standard Examiner, 9 June 1908, page 5
3. "Odeon Theater Under New Management", Ogden Standard Examiner, 21 November 1908, page 5
4. "Brevities", Ogden Standard Examiner, 7 February 1909, page 8