Menu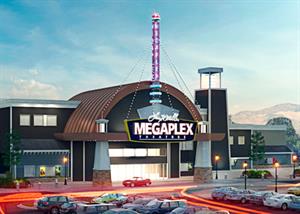 Anderson Development acquired the 1,700-acre site, one of the largest brownfields west of the Mississippi River, for $46.8 million in 2005 bankruptcy proceedings.[1][2] The site "looked like a bomb site with concrete mounds, hazardous waste and other debris."[3] Developers spent seven years moving tainted soil, slag, building waste, scrap metal, and other mill remnants. An initial estimate of concrete that needed to be removed increased from 150,000 to 2,100,000 cubic yards.[2]
On 6 September 2013, Anderson Development announced @geneva, a 1,700 acre master-planned community with a mixed-use of residential, commercial, educational, and industrial. Developers took advantage of "a shortage of developable land and booming real-estate markets" to create "one of the most ambitious projects"[2] in Utah County.[1,][2][4]
@geneva features a 150-acre town center, 90 acres of lake front with improved beaches, an intermodal transit hub, and 11 million square feet of retail, office, and industrial space. 7,600 residential units were projected to increase the population of Vineyard from 235 in 2012 to 27,000 in less than a decade. Utah Valley University purchased 225 acres for a satellite campus with new classrooms and intramural fields.[3][5][1][2][4]

Megaplex Theatres had already been looking to expand into central and south Utah County when they were approached by @geneva developers. Ground was broken on May 2014 and grand opening ceremonies were held on 13 March 2015. The 13-screen theater complex was the first business to open, an "integral part" and "economic mainstay" of @geneva. The 18th location for Megaplex Theatres provides 100 full and part-time jobs.[5][4][6][7]
In keeping with the nautical theme of @geneva, which lies along the eastern shore of Utah Lake, the facade of the 78,000-square-foot theater features two towers reminiscent of coastal lighthouses. The center marquee rises 100 feet, making it visible from I-15.[1]
A full-service food court allows moviegoers the option of taking dinner into the show with trays that fit into seat cupholders. Coca-Cola Freestyle, a touchscreen-operated beverage dispenser, offers more than 100 brands from a single unit. Tickets can be purchased from drive-up and in-lobby kiosks. Meeting rooms provide space for large screen video gaming tournaments, movie premiere parties, corporate meetings, and private events. A VIP luxury lounge offers free drinks and popcorn prior to the show.[3][6][8]
Megaplex Theatres at Geneva brings the first IMAX auditorium to Utah County, with a five-story 2D/3D screen and digital projection.[3][2][4][6]
The cinema's 13 auditoriums can accomodate 3,000 patrons, with reserved stadium seating, luxury lounge and premium seating, D-Box motion seats, and High Frame Rate projection systems. Quiet Rooms in select auditoriums are reserved for parents or caregivers to tend to infants.[3][5][1][4][6][8]
Twelve auditoriums are equipped with Christie Solaria Series 2K/4K projectors and Christie Vive Audio sound systems, the first installation in Utah. Christie Vive Audio has "speakers configured to the highest standards to meet Dolby specifications for a life-like audio experience." Ten auditoriums are equipped for Dolby Surround 7.1 and four have 3D projection.[7]
Two auditoriums feature Dolby Atmos, which "delivers moving audio, ...sound that can be precisely placed and moved anywhere in three-dimensional space, including overhead. It brings entertainment alive all around the audience in a powerfully immersive and emotive experience."[7]
Adaptive services for guests with special needs include open and closed captioning for the hearing impaired, descriptive video services for the visually impaired, accommodations for guests with mobility challenges, and wheelchair accessible D-Box motion seats[6]
1. "Vineyard surprises Utah County with exploding growth", Daily Herald, 30 August 2014
2. "Vineyard: Utah's small town with a BIG FUTURE", Salt Lake Tribune, 28 September 2014
3. "New @geneva development to feature homes, stores, Megaplex theater", Daily Herald, 7 September 2013
4. "Megaplex Becomes First Retail Business to Open @Geneva", genevautah.com, 6 March 2015
5. "Development plans outlined for old Utah mill site", Anchorage Daily News, 8 September 2013
6. "Larry H. Miller Megaplex opens this week in Vineyard", Daily Herald, 7 March 2015
7. "Christie Solaria Series 2K/4K Projectors and Christie Vive Audio Power the New Megaplex in Vineyard", DCinema Today, 25 March 2015
8. "Film Hot Ticket: Bang for your buck", Herald Journal, 12 March 2015