Menu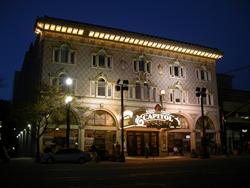 Located in the heart of downtown Salt Lake City, the Capitol Theatre opened in 1913.
Designed by G. Albert Lansburgh, who had graduated from the Ecole des Beaux Arts in Paris, the Capitol Theatre was orginally built as part of the Orpheum Theatre chain.
It utilized the most modern mechanical contrivances of its time, bringing advancements in safety and comfort through such features as fireproof and earthquake-resistant construction and air conditioning.
The building was remodeled in 1927 as a motion picture theater and operated successfully for decades. In 1976, the theater was purchased by Salt Lake County and restored closely to its original form.
Today, this historic landmark is the home of Ballet West, Utah opera, and Ririe-Woodbury Dance Company. The theater also hosts world class Broadway productions community arts education programs.
Jessie Eccles Quinney Center for Dance
On 25 October 2010, Ballet West and The Salt Lake County Center for the Arts announced a partnership to renovate the Capitol Theatre and build the Jessie Eccles Quinney Center for Dance – home to Ballet West and the Ballet West Academy.[1]
In 2005, Ballet West made plans for moving to Sugarhouse, but the Salt Lake Chamber asked the dance company to remain downtown. In 2008, Salt Lake County purchased from Woodbury Corporation the property west of the Capitol Theatre for $3.2 million. The building housing the Absolute restaurant was demolished and the county signed five-year leases with the Blue Iguana and Benihana restaurants, which were located in different buildings.[2]
The new $32 million facility will be an addition[1] to the Capitol Theatre and will bring together in one location the dance academy, rehearsal studios, and costume shop, which are currently "scattered all over the city."[3] The center will include six studios, office space, and technical support areas.[2][1] Ballet West Academy will be able to increase "existing programs and enrollment by four-fold and improve the quality of educational programs for pre-professional dancers."[1]
Renovations to the Capitol Theatre include improved sightlines, and an energy efficient heating and cooling system. The lobby will be expanded with increased restroom facilities and improved concessions and merchandise sales areas. A beautiful new banquet and meeting space will allow local arts groups to hold fundraisers, board meetings, dinners, and other development activities.[1]
Ballet West will raise $18 million for the project. Major funding will be provided by S.J. and Jessie E. Quinney, George S. and Dolores Doré Eccles, and Emma Eccles Jones foundations. Salt Lake County will contribute the remaining $14 million, partly through tax incentives.[3][2]
Construction will begin in Spring 2012. Completion in Fall 2013 will coincide with the 50th anniversary of Ballet West and the 100th anniversary of the Capitol Theatre.[1] The new facility will be designed by HKS Architects Inc.[2]
1. "A New Home for Ballet West and the Ballet West Academy", www.balletwest.org, 25 October 2010
2. "Ballet West to build dance center", Salt Lake Tribune, 26 October 2010
3. "New home for Ballet West announced for downtown Salt Lake City", Deseret News, 25 October 2010