Menu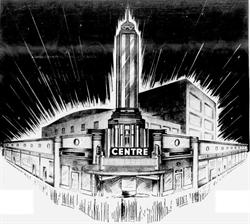 Centre Theatre

State & Broadway
Salt Lake City, Utah

(1937 - 1989)

The Centre Theater opened on 24 December 1937 and was built on the site of the Knutsford Hotel.[1] The theater was considered one of Salt Lake's finest examples of Art Deco architecture. One of its most unique features was the 90-foot tower located above the theater.
When the Centre opened it had 1,623 seats, but installation of a 56-foot wide screen in 1959 reduced seating to 1,174.
In 1989, Cineplex Odeon let its lease run out so the owners could demolish the building. A new office tower was built on the site, along with a 6-screen multiplex.
1. "Red Lights in Zion: Salt Lake City's Stockade, 1908-11", by John S. McCormick, Utah Historical Quarterly, Volume 50, Number 2 (Spring 1982), Utah State History CD-ROM