Menu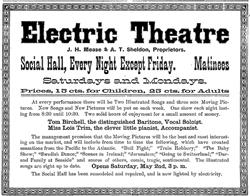 Browne Hall
(Social Hall, Electric Theatre)

Vernal, Utah

(Before 1891 - 1910)

The Social Hall, or Browne Hall, was the first building in Vernal specifically designed for social events. It was built by a group of investors led by S. M. Browne, who was the first mayor of Vernal. Even though Browne was also a saloon owner, events at the Social Hall were very high class. A band played for dances in the hall.[1]
On 23 February 1891, a bow dance was held in the new Social Hall. Ladies were to make two bows or neckties, one of which she would wear and the other she would put in an envelope. A drawing was held and the gentlemen were to consider the lady who wore the matching bow their partner for the evening.[2]
The Electric Theatre began showing moving pictures and illustrated songs in the Social Hall on 4 May 1908.[3] The two-hour performances consisted of three moving pictures, piano accompaniment by Miss Lois Trim, and two illustrated songs, sung by Tom Birchell. Mr. Mease and Mr. Sheldon, proprietors, announced they had secured "among the moving pictures some of those that have been received throughout the country with a great deal of enthusiasm. These pictures include The Bull Fight, The Train Robbery, Thirteen at the Table, Excursion to the Moon, The Holdup, Angel of the Village, A Modern Sampson, Swedish Dance and many others of comedy, tragedy, and sentiment."[4]
In 1910, the Social Hall was sold to the Woodard family for use as a furniture store.[1] On 31 May 1910, the Vernal Amusement Company organized with the purpose of replacing the Social Hall before winter set in.[5]
1. "Chapter 12: Culture, Arts, and Recreation", A History of Uintah County, by Doris Karren Burton, Utah State History CD-ROM
2. "Bow Party", Vernal Express, 20 February 1891, page 3
3. "[Electric Theatre Opened]", Vernal Express, 8 May 1908, page 1
4. "Electric Theatre", Vernal Express, 1 May 1908, page 2
5. "Amusement Hall for Vernal", Vernal Express, 3 June 1910, page 1