Menu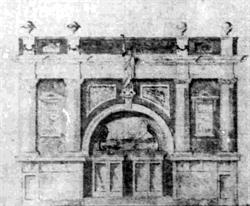 Gem Theatre
(Liberty Theater)

162 South State Street
Salt Lake City, Utah

(1911 - 1968)

Construction of the $20,000 Liberty Theatre was under way in November 1910, with an expected opening date of 1 February 1911. The "photo-playhouse" was to be "one of the most modern motion picture houses in the west." Plans included "many new features which have not before been incorporated in plans for a motion picture house."[1]
The theater had a seating capacity of 1,900, including 100 loge seats. Private loges allowed patrons to enjoy "the exclusiveness and comforts of the opera box." The dimensions of the building were 44 feet wide and 180 feet long.[1]
The Liberty Theatre was "practically fireproof," promising that the "danger to patrons from fire will be removed as far as possible." The theater had "private retiring rooms for both ladies and gentlemen" and a ventilation system that could provide a complete change of air every three minutes. C. W. Midgley, manager of the Casino Theatre, was also have the management of the Liberty.[1]
About 1919,[2] the theater was renamed the Gem Theatre. The theater closed on 2 September 1968.[3] The building was later demolished and the site is now a parking lot for a fast food restaurant.
1. "Modern Picture Theatre", Salt Lake Tribune, 6 November 1910
2. "Advertisements", Syracuse Stadium 6 Theatres (Syracuse), Salt Lake Tribune, 21 November 1919, page 17
3. "Advertisements", Syracuse Stadium 6 Theatres (Syracuse), Salt Lake Tribune, 2 September 1968, page 9