Menu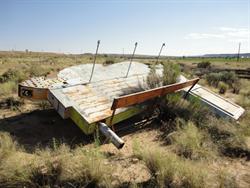 River Vu Drive-In Theater

1100 East Main Street
Green River, Utah 84525

(After 1955 - ?)

The River Vu Drive-In Theater opened sometime before 1955[1] and was operated by Green River residents Eugene Hunt, Jay Vetere, Alma Scoville, and Lewis Allen.[2] The drive-in was located "just across the bridge",[3] on the other side of the Green River. The theater, at approximately 1100 East Main Street, appears to actually be in Grand County.

On 7 August 1955 and 21 October 1955, the River Vu Theater was broken into by prying open the south window of the Snack Bar. In both incidents the only things stolen were items from the concessions stand - candy, pop, hot dogs, and gum. Children were believed to be the culprits, and a theater employee suggested that authorities check school children for an excess of gum and candy.[2][4]

The River Vu closed for the season on 28 November 1955.[5] The proceeds from its last three nights was donated to the LDS Church building fund.[6]
1. "Photo", Green River Journal, 21 July 1955, page 1
2. "Petty Troubles Keep Police on the Jump", Green River Journal, 11 August 1955, page 1
3. "Aerial-Photos", River Vu Drive-In Theater (Green River), Green River Journal, 18 August 1955, Page 4
4. "Drive-In Theater Robbed, Believed To Be Children", Green River Journal, 24 November 1955, page 4
5. "Aerial-Photos", River Vu Drive-In Theater (Green River), Green River Journal, 24 November 1955, Page 2
6. "Folks Around Town", Green River Journal, 1 December 1955, page 2