Menu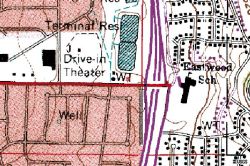 Motor Vu Drive In
(Motor-Vu Theatre, Romantic Motor-Vu Drive-In Theatre, Motor-Vu Theatre)

3301 East 3300 South
Salt Lake City, Utah

(1947 - 1976)

Erick C. Peterson opened the Motor Vu Theater at 3500 East 3300 South on 6 June 1947.[1]

During the Motor Vu's opening season, Peterson and his family spent so much time at the drive-in that they built a home inside the screen tower. The house had two bedrooms, utility room, kitchen, breakfast nook, living room, and a sound studio.[2]

On 17 April 1949, the Motor-Vu Drive-In opened the Mother Goose Playland. The new $13,000 playground featured swings, a slide, teeter-totters, picnic grounds, and a $4000, 16-passenger miniature train. The playground and picnic facilities were available for the use of Motor-Vu Drive-In patrons daily, starting at 7 p.m. and closing when the first movie started at 9 p.m.[3][4]

In 1954, the Motor Vu Drive-In became the first outdoor theater to be licensed for CinemaScope. The Motor Vu's new curved screen, measuring 48 feet high by 102 feet wide, was the largest in the world at the time. Stereo soound was provided using two speakers per car. The Motor Vu re-opened with the new screen on 19 March 1854, showing the first CinemaScope movie, "The Robe."[5][4]

The Motor Vu Drive-In also had its own radio station, featuring Disc Jockey Carl.[4]

In 1961, Intermountain Theaters, Inc. installed a new snack bar at the Motor-Vu Drive-In.[6]
1. "Obituary: Thelma June Bosh Peterson", Deseret News, 3 December 1996
2. "Pull on up, park on the sofa and enjoy book on drive-ins", Deseret News, 24 October 1997, page W5
3. "Car Theater To Open Playground", Salt Lake Tribune, 17 April 1949, page B13
4. "(Motor-Vu ad for "The Student Prince")", Salt Lake Tribune, 18 July 1954, page 12B
5. "S.L. Outdoor Theater Installs World's Largest Screen", Salt Lake Tribune, 18 March 1954, page 13
6. "$400,000 Hyland Project Newest Theater Remodeling", Deseret News, 17 July 1961, page B3