Menu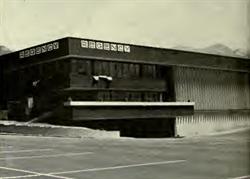 Regency Theatre

2749 East Parleys Way
Salt Lake City, Utah 84109

(1972 - 1990)

ABC Intermountain Theatres opened the Regency Theatre on 19 July 1972 with the area premiere of Neil Simon's "Last of the Red Hot Lovers." Construction on the $750,000 project began in September 1971 with John Price Associates as general contractor and Henry George Green & Associates of New York City as architect. Woodbury-Morris Company developed the property.[1][2]
The 26,000-square-foot steel frame and masonry block building had an exterior of stone, concrete, and glass. A circular ramp lead down from the theater to a well-lighted, 200-car parking lot. Landscaping within the ramp area included fountains and gardens.[1][2] The theater was located at the intersection of Foothill Drive, Parley's Way and I-80, near the mouth of Parley's Canyon. The entrance was at the northeast corner of the building.
Quarry tile flooring decorated the entrance of the lobby and the concessions area. On the left side of the lobby were the box office, with connecting manager's office, and "sparkling lounge and restroom facilities." The ladies' lounge featured shag carpet and wall mirrors. A centrally located "refreshment center" featured a prefabricated counter with built-in popcorn warmers and candy display. Walnut veneer on the front matched the back bar, and tile-back wall colors matched the carpet colors. 77 decorative light fixtures on light tracks with Plexiglass dividers provided illumination. The west side of the second floor lobby extended to a terrace overlooking the Salt Lake Valley. Floor to ceiling windows allowed allowed patrons inside to enjoy the panoramic view. Offices for the Salt Lake division of ABC Intermountain Theatres resided on the third floor.[2]
American Seating provided the auditorium's 780 widely-spaced rocking lounge-type seats. Their red-orange color coordinated with the red waterfall and traveler screen curtains and the gold sidewall curtains from R. L. Grosh & Sons. The curtains were highlighted by recessed lighting and rotated around the screen instead of gathering at the side. The curved Tecnikote XR 171 screen measured 50 feet wide by 22 feet high. Electronically controlled temperature allowed for "year round climatized comfort."[1][2]
"Specially designed acoustics and the most advanced electronic sound equipment the industry has yet developed"[1] provided "the ultimate in audio and visual effects."[2] Electro Sound installed the multi-channel sound system. The booth featured dual Century 35/70mm projectors for studio previews with Christie CHF xenon consoles and 3,000-watt bulbs. Other equipment included Kollmorgen lenses, Neumade rewinds, and Golberg 5,000-foot reels for 35mm.[1][2]
On 16 June 1989, Cineplex Odeon converted the Regency into a discount theater, showing all movies for a dollar. The last advertisement for the theater was on Sunday, 25 March 1990. Cineplex Odeon did not run an ad in the Deseret News on Monday and the Regency was missing from the chain's ad on Tuesday.[3]
After sitting idle for some time, the former theater was remodeled into a three-story office building, with a new entrance on the south side.
1. "Opening Slated for Regency Theatre", Salt Lake Tribune, 12 July 1972, page B25
2. "The Regency", Boxoffice Magazine, 13 November 1972
3. "Advertisements", Regency Theatre (Salt Lake City)