Menu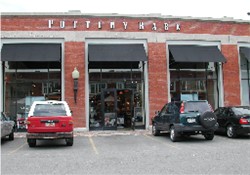 Trolley Theatres
(Trolley Square Theatres)

602 East 500 South
Salt Lake City, Utah

(1972 - 1991)

When the Trolley Theatres opened on 28 June 1972, they were the first business to open in the new Trolley Square development at 602 E. 5th South. The multimillion-dollar project transformed the old Salt Lake City Lines trolley barns into a major shopping and cultural center.

The Trolley Square Theatres had four 300-seat movie houses built within the original superstructure of the trolley barns. The theaters had "floating" screens, with lighting effects taking the place of traditional curtains. Automated projection equipment allowed a single projectionist to handle all four theaters.

The Trolley Theatres, the first in the Trolley Theatres chain, were owned by David Gillette, Larry Gillette, Mac Bay, Tony Rudman, and Jerry Place. Trolley Theaters Inc. leased the space for 15 years and spent $368,000 on construction and equipment. The company's philosophy was to "offer families with mixed maturities opportunity to go to the movies at the same time"[1]

The Trolley Theatres had nostalgic décor. Large murals of W. C. Fields, Charlie Chaplin, Clark Gable and other old-time film celebrities adorned the exterior walls of the theater. Theater employees wore keystone cop uniforms. Mounted on the wall of the lobby were lighting switches from an old theater.

The front entrance consisted of two sets of glass double doors on the north side of the theater. The ticket counter was at the north end of concession stand, which stood in the center of the lobby. The auditoriums were positioned with the entrances in the center of the lobby, one pair of theaters on either side of the snack bar. On either end of the lobby was a long stairway leading to upper level which housed offices and rest rooms.

The Trolley Theatres chain was later sold to Plitt Theaters, which then became Cineplex Odeon. In 1988 Cineplex Odeon built a new four-screen multiplex inside the Trolley Square mall. The new theater was named Trolley Square Cinemas, while the old theater was called Trolley Square Theaters. The old 4-plex was operated for a while as a discount theater before Cineplex Odeon abandoned it in 1992.

In 1996 Randy Barton transformed the old Trolley Theatres into the Wooden Dog, a cafe, pub, and performing-arts center. Each auditorium was to host different forms of entertainment, such as dance, video, live music, and theater events. TheatreWorks West, which has resided at Westminster College since 1984, moved to a more intimate 150-seat theater at the Wooden Dog.[2]

On 25 July 1998, the Pottery Barn store opened in the space formerly occupied by the Trolley Theatres.[3]
1. "Films Hook Ride on A 'Trolley'", Salt Lake Tribune, 29 June 1972, page D9
2. "Unique Arts Cafe Comes to Trolley Arts Complex", Salt Lake Tribune, 29 March 1996, page B8
3. "Pottery Barn comes to Trolley Square", Deseret News, 24 July 1998, page D7