Menu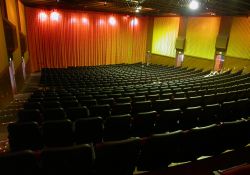 Trolley Corners

515 South 700 East
Salt Lake City, Utah

(1977 - 2004)

The Trolley Corners Theatre opened on 23 December 1977 and was part of a $3.5 million complex by the Boyer Company which included Union Bank, Swenson's Ice Cream Store, office space, a restaurant, and a parking terrace. The theater was originally owned, in part, by Trolley Theatre partners David Gillette, Mike Place, Tony Rudman and Mae Bay.[1]
The triplex theater was named "Trolley Corners" because it was located on the corner of 500 South and 700 East, across the street from the Trolley Square mall. The entrance of the theater was on the east side of the building where there was a multi-level parking structure. Patrons would purchase their tickets at a booth on the main level and then go upstairs to Theater 1 or downstairs to Theaters 2 & 3. A walkway open through three levels to a skylight above separated the theater complex from the offices and restaurants that surrounded it on three sides.
The upstairs theater at Trolley Corners, Theater #1, had 775 seats and was "the deepest slope theater in the city".[1] Its projection booth was equipped with two 70mm projectors and the curved screen was covered with a curtain that rose upwards. Surround speakers were hidden above the auditorium's side doors, which magically closed once the movie began. On the outside walls of the auditorium were large murals from the "Sound of Music" and "Star Wars".
On the lower level of the Trolley Corners building were two 315-seat theaters and an additional concession stand. Both theaters lacked stadium seating, but their auditorium walls featured murals of classic movie characters painted by Trolley Theatres general manager Dale Christiansen. Theater 2 did not have stereo sound when the theater opened, but was later equipped for DTS Digital. Theater 3 was equipped for Dolby Stereo.
In September 1978 Trolley Corners was the home of the first Sundance Film Festival, originally called the "Utah/U.S. Film Festival". Trolley Corners continued to continued to show films for the Sundance Film Festival through 2004.[2]
Plitt Theatres acquired the Trolley Theatres chain in October 1984. Leases for other Trolley theaters were turned over to Plitt, but Trolley Corners and Trolley North were owned by Trolley Theatres and subsequently leased to Plitt.[3]
Plitt Theatres later became Cineplex Odeon and then Loews Cineplex.
In April 1998 Loews installed new "plush high-back" seats in the upstairs theater at Trolley Corners. Jeff Vice of the Deseret News described it as "a movie critic's dream come true" and referred to the old seats as "torture-device chairs".[4]
In May 1999 Loews installed an 8-channel SDDS sound system in Trolley Corners Theater #1, just in time for "Star Wars: Episode I: The Phantom Menace." Since the theater kept the DTS Digital sound system it already had, Theater 1 was with not only two projectors but also two digital sound systems.
Loews Cineplex entered Chapter 11 bankruptcy in February 2001 and later abandoned all its theaters in Utah except for a new multiplex in Layton. Trolley Corners was taken over on 9 September 2001 by Westates Theatres, a theater chain owned by some of the original Trolley Theatres partners. Trolley Corners made the transition without being closed for even a day.
Westates originally planned restore Trolley Corners to its former glory,[5] but the theater was unable to book a good selection of first-run films after the Megaplex 12 at the Gateway opened on 2 November 2001. In December 2001 Trolley Corners Partnership filed a lawsuit claiming that Megaplex Theatres was using illegal trade practices to prevent Trolley Corners from booking the holiday season's big blockbusters, "Harry Potter" and "Lord of the Rings."[6]
After struggling for nearly two years to book a decent selection of first-run films, Trolley Corners finally became a discount theater on 5 September 2003. The original Trolley Theatres, the Family Center Trolley, and the Regency Theatre also served as dollar theaters before closing permanently. Trolley Corners Theater #1 was the only dollar theater in the Salt Lake area that has had stadium seating.
The once-popular Trolley Corners triplex closed its doors forever after its final showings on 3 June 2004. The space the theater occupied in the Trolley Corners building was to be gutted and converted into a 24 Hour Fitness health club.[7] Equipment from the theater was used in a new theater in St. George and someone managed to remove the large section of sheetrock containing the "Star Wars" mural.
1. "Trolley Corners Theatre triplex opens its doors tonight", Deseret News, 23 December 1977, page C7
2. "Sundance: Trolley Corners to Oscar Night", Salt Lake Tribune, 12 January 2003
3. "Plitt Will Acquire Trolley Theatres Chain", Deseret News, 29 September 1984, page C1
4. "Critics won't get early peeks at 'Godzilla'", Deseret News, 26 April 1998, page E11
5. "Movie house merry-go-round", Deseret News, 20 April 2001, page W01
6. "Trolley Corners sues Larry Miller firm", Deseret News, 25 December 2001, page B14
7. "Trolley Corners Theatres, largest in Utah, closes", Salt Lake Tribune, 4 June 2004