Menu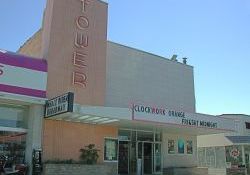 Salt Lake Film Society
Tower Theatre
(Tower Talkies, Tower East Theatre)

876 East 900 South
Salt Lake City, Utah 84105
801 321-0310
saltlakefilmsociety.org
(1928)

The Tower Theatre, built in 1921, is the oldest movie theater in the Salt Lake Valley which is still in operation today. It was the first air-conditioned movie theater in the city.

The theater originally had a facade that resembled the Tower of London, but this was removed in 1950.

In October 1952 the Tower Theater was leased to the Tower Corporation. L. Howard Marcus, corporation president, said, "Our intention is to operate the Tower as a truly 'art theater.' We plan an entirely new type of theater operation, patterned after the fine entertainment enterprises so successful in metropolitan centers throughout the United States. We feel there is a constant demand for high quality artistic films, both imported and domestic, which we will present at the Tower."[1]

The theater closed in 1988 and stood vacant for a couple years.

On 26 July 1991, Greg Tanner reopened the 480-seat Tower, hoping to recapture the theater's reputation as Salt Lake City's premiere movie art house. Tanner also operated the Blue Mouse, which was a small screening room in the basement of a building, and Cinema in Your Face!, which had the stigma of once being a soft-core porn theater. Of the Tower, Tanner said, "I think that Salt Lake has never had a high-quality art theater. Not since the Tower held that status in the '60s. We feel there will be a lot more support for an arts theater here." Before reopening the Tower, Tanner improved the projection equipment, renovated the lobby and rest rooms, and fixed electrical and plumbing problems. He still hoped to do work on the marquee, the ceiling in the auditorium, and the sound system.[2]

Businessman Paul Liacopoulos bought the Tower in 2000. The Salt Lake Film Society, a nonprofit organization, operates the Tower and later took over the Broadway Centre 6 downtown.[3]

In about 2001, the Salt Lake Film Society took over management of the Tower Theatre. Brooke Harper, president of the society, selects the movies herself, traveling to film festivals across the country to find the perfect films for the theater. The society has done so well that in 2002 it expanded its operations to 7 screens by taking over the Broadway Centre Cinemas.

Harper said, "Operating an art house theater is a completely different enterprise . . . You have to be creative with finances, make every dollar go as far as possible, and people who traditionally work with Hollywood cinema don't know how to do that."[4]

During July and August 2003, the Tower shut down its daytime and evening film programs "to protect patrons from the moderate discomfort that stems from the Tower's antiquated air-conditioning system." The Tower continued its weekend midnight movies and video-rental business stayed opened.[5]
1. "New Company Takes Over S. L. Theater", Salt Lake Tribune, 17 October 1952, page 12B
2. "Tower Hopes to Recapture Reputation as S.L.'s Premiere Art House", Deseret News, 26 July 1991, page W3
3. "Art-house showdown: Utah flavor vs. New York slick", Salt Lake Tribune, 8 August 2003
4. "Salt Lake Film Society corners independent film market", BYU NewsNet, 5 September 2003
5. "Tower cuts back", Deseret News, 27 June 2003