Menu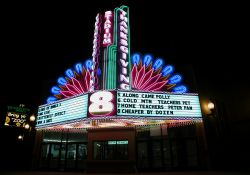 Megaplex Theatres
Megaplex at Thanksgiving Point
(Thanksgiving Point Stadium 8, Megaplex 8 at Thanksgiving Point)

3003 North Thanksgiving Way
Thanksgiving Point
Lehi, Utah 84043
(801) 768-0529
http://www.megaplextheatres.com

Thanksgiving Point Stadium 8

The Thanksgiving Point Stadium 8 was built by LCA Entertainment, which built the Water Gardens Cinema 6 in Pleasant Grove and was affiliated with Westates Theatres. The theater was scheduled to open on 23 May 2003, for the Memorial Day weekend, but problems with installing the seats pushed the opening date back. Four auditoriums opened on 29 May 2003 and it was expected that the remaining theaters would open by the following Friday.

The 27,000-square-foot theater complex cost $3.5 million and features stadium seating, love seats, three types of digital sound systems, and online ticketing. Three auditoriums have seating capacities of about 300, with the remainder ranging in size from 120 to 200.

The movie theater located in the southeast corner of Thanksgiving Point, next to the North American Museum of Ancient Life. Thanksgiving Point is a 700-acre family-friendly resort with gardens, shops, meeting rooms, a farmer's market, an animal park, greenhouses, and a golf course.

The Thanksgiving Point Stadium 8 was the first attraction at Thanksgiving Point to open on Sundays. The theater also shows R-rated movies. T. J. Rudman, vice president of Westates Theatres, explained that both are requirements of contracts with film distributors, who want all their films to be shown and restrict selection from theater owners.[1]


Bankruptcy

On 2 July 2004, LCA Entertainment filed for Chapter 11 bankruptcy in an attempt to keep its lease on the Thanksgiving Point Stadium 8 theater. LCA ran into financial difficulties after a construction company failed to complete a remodeling project at LCA's Water Gardens Cinema 6 theater in Pleasant Grove. LCA had paid the contractor more than $126,000. Without the buffer cash that was meant to cover expenses during the slow winter months, LCA fell behind in rent payments at Thanksgiving Point. Both theaters also suffered because of competition with the new 12-screen Cinemark theater in American For.[2]


Megaplex 8 at Thanksgiving Point

On 10 January 2005, Megaplex Theatres acquired the lease agreement for the Thanksgiving Point Stadium 8 and renamed the theater "Megaplex 8 at Thanksgiving Point". Megaplex Theatres was interested in the theater because of rapid growth in the area and plans to increase its market share by improving customer service. No major renovations or expansions are planned for the multiplex during Megaplex Theatres' multi-year lease, but the theater was cleaned and repairs were made to the projection and sound systems in some auditoriums. Megaplex Theatres retained the theater's 25 employees and gave them additional training in guest relations.[3]


1. "Thanksgiving Point plans multiplex theater", New Utah!, 5 December 2002, Page 1
2. "Theater owners file for Ch. 11", Daily Herald, 11 August 2004, Page A1
3. "Larry Miller buys lease of Thanksgiving Point theater", Daily Herald, 11 January 2005, Page A1; and "Miller adds to screens in Utah", Salt Lake Tribune, Salt Lake Tribune, 12 January 2005

Other sources:
"Movie theaters coming to Thanksgiving Point", Deseret News, 5 December 2002, Page B9
"Thanksgiving Point breaks ground for movie theater", Daily Herald, 5 December 2002
"Thanksgiving Point opens new theater", Daily Herald, 29 May 2003