Menu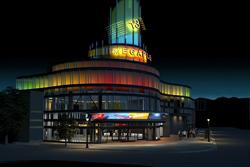 Megaplex Theatres
Megaplex Theatres at The Junction
(Megaplex 13 at the Junction)

2351 Kiesel Ave
Ogden, Utah 84401
(801) 325-7500
megaplextheatres.com/thejunction
(2007)

The Megaplex 13 at the Junction is scheduled to open 15 June 2007 and will cost between $11 and $15 million. The 110,000-square-foot theater complex will have a total of 2460 seats, with auditoriums ranging in size from 120 to 590 seats. All theaters will feature stadium seating, wall-to-wall screens, and state-of-the-art sound systems. The theater include several food operators and three large meeting rooms.[1]
The Megaplex 12 was built on the site of the former Ogden City Mall, which was demolished after the mall failed. The city of Ogden has been working with The Boyer Company on redeveloping the 21-acre site. The success of the project is vital to the future of downtown Ogden. The new development is named "The Junction",[2] an allusion to Ogden's railroading history and its nickname of "Junction City".
Other major anchors of The Junction are the Treehouse Children's Museum and a high-adventure recreation center. Property Reserve Inc., the real estate arm of the Church of Jesus Christ of Latter-Day Saints, will build shops, offices, and condominiums on two corners of the site across the street from the Ogden Temple. Salt Lake City developer Dave Earnshaw plans to build a six-story building with shops, offices, luxury condominiums, and a ground-level grocery store.
The 122,000-square-foot recreation center will feature a Gold's Gym, a Fat Cats entertainment center, a Skyventure wind tunnel for simulated skydiving, a Flowrider wave pool for surfing and wakeboarding, a 80-foot high climbing wall, a 36-lane bowling alley, an arcade, two restaurants, and a large indoor track.
1. "Miller announces movie complex at rec center event", Ogden Standard Examiner, 12 December 2005
2. "New Ogden project to be called 'The Junction'", Salt Lake Tribune, 15 February 2006