Menu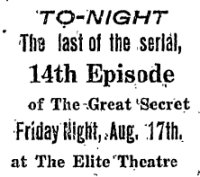 Elite Theatre
(Opera House, Star Theatre)

Main Street
Panguitch, Utah

(About - About 1920)

Opera House
The opera house was built about 1893 and served the community as a show house, roller skating rink, and automobile repair shop.[1] The building was owned by A. C. Tebbs and was also refered to as a hall.[2] The opera house had a level floor and may have had moveable chairs so the hall could be used for both roller skating and moving picture shows.
Star Theatre
In the summer of 1913 the Star Theatre in Panguitch showed movies to "well filled houses." "People are pleased, enjoy themselves and often see much that it instructive and beneficial. Electric lights and fine music and costly films are drawing crowds."[3] The last reference to the Star Theatre in the Panguitch Progress newspapaer was in August 1913, when the Star Theatre was to be enlarged with 200 opera chairs, a sloping floor, and a new stage.[4] It is likely that the Star Theatre was run in the opera house and was renamed the Elite Theatre after the remodeling was complete.
Elite Theatre
In September 1913, A. C. Tebbs and G. G. Purrington formed a partnership to convert Mr. Tebbs' hall into a 400-seat moving picture theater. The theater was to have "the latest modern machinery, electric light plant, ornamental electrical fixtures, [and] radium gold fiber motion picture screen".[2] The new Elite Theatre opened between 17 and 20 October 1913.[5]
A sign with the name "Elite" in electric lights hung above the theater entrance and extended three feet over the concrete sidewalk. The entrance was 14 feet wide, with rooms on either side of it. The front doors and box offce set back 12 feet from the sidewalk. The entrance was decorated with ornamental chandeliers and beautiful oil paintings. The foyer of the theater ran the full width of the building. The auditorium had three seating sections separated by two carpeted isles. The walls of the auditorium were lighted by six colored bracket lights on each side. Ventilation was provided by three electric fans.[2][5]
Sam's Garage
It appears that a new theater, named the Kinema Theatre, was built about 1920. The Elite Theatre then closed and was converted into a garage and service station called Sam's Garage. In January 1933 the former opera house was "relegated to the limbo of things forgotten".[1] Owner Sam Barton demolished the structure so he could build a new, modern "auto hospital" on the site.[6]
1. "Sam's Garage Being Razed", Garfield County News, 27 January 1933, page 1
2. "Moving Picture Theatre for Panguitch", Panguitch Progress, 19 September 1913, page 1
3. "[Moving Pictures at Star Theatre]", Panguitch Progress, 13 June 1913, page 1
4. "[Improvements to Star Theater]", Panguitch Progress, 15 August 1913, page 1
5. "The Elite Theatre", Panguitch Progress, 17 October 1913, page 1
6. "Work Starts on New Sams Garage", Garfield County News, 17 March 1933, page 1