Menu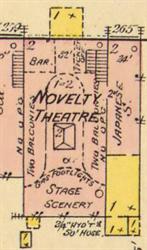 Novelty Theatre
(Sherman Theatre)

263 25th Street
Ogden, Utah 84401

(Before 1890 - After 1895)

The 1890 Sanborn fire insurance map showed the Novelty Theatre as having a ticket office, two balconies, gas footlights and a stage with scenery. A bar occupied its retail space.[1]
On 17 September 1893, Reverend Frank S. Forbes opened a mission Sunday school at the Novelty Theatre for all children and young people. All children and young people in the western part of the city were invited to join. About 150 attended the first week.[2]
Early in the morning on 16 October 1895, the bartender at the St. Louis beer hall noticed flames and smoke coming from the roof of the "old novelty theater" on 25th Street, more recently known as the Sherman theater. Kindling found under the stage, consisting of old paper, trash, and shavings, smelled strongly of kerosene, leading to the belief that a miscreant was responsible. The fire was "a mean one to fight" and firemen struggled to "get inside and get the water where the fire was the greatest." One stream of water was employed through a hole made in the roof while a second used an opening in the rear of the building. A third hose was later added. Firemen fought the flames for three hours before bringing them under control.[3][4]
If the fire had not been discovered early, the entire structure would have been lost, because it was built of "such old and dry material." Damages, estimated between $700 and $1000 and fully covered by insurance, were limited to the stage, scenery, and part of the roof, which were described as "burned out." Before the fire, a variety company had planned to open the theater "in a short time." The property was owned by the Stevens brothers.[3][4]
On the 1906 Sanborn map, the building appeared to have become the Shupe-Williams Candy Company, with an addition on the rear of the building. The 1950 map showed Labor Temple Gym occupying the site, with lodging on the second floor.[1]
1. "Sanborn-Maps", Novelty Theatre (Ogden)
2. "Novelty Theater Mission", Ogden Standard Examiner, 24 September 1893, page 3
3. "Novelty Theater Burned", Ogden Standard Examiner, 16 October 1895, page 4
4. "Novelty Theater Fire", Salt Lake Tribune, 17 October 1895, page 7