Menu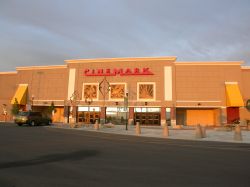 Cinemark USA
Cinemark at American Fork

715 West 180 North
American Fork, Utah 84003
801-756-7897
cinemark.com
(2003)

The Cinemark 12 in American Fork opened 25 November 2003 and is located in The Meadows Shopping Center, developed by Woodbury Corporation. The new development also includes Super Wal-Mart, Kmart, Target, and Home Depot stores.
The theater has 12 theaters with stadium seating, digital sound, and online ticket sales. "Four larger theaters will hold 285 to 295 individuals, while eight smaller ones will serve 170 to 175. There is room to expand for two large theaters in the future."[1]
The Cinemark theater opening comes just five months after Westates Theatres opened an 8-screen theater at Thanksgiving Point in Lehi. Westates vice-president T. J. Rudman "said distance between movie theaters was not too much of a concern as long as the population in the area supported it."[2]
1. "Twelve screens coming to AF", New Utah, 10 October 2003, page 1
2. "Thanksgiving Point plans multiplex theater", New Utah, 5 December 2002, page 1